Example dose titration schedule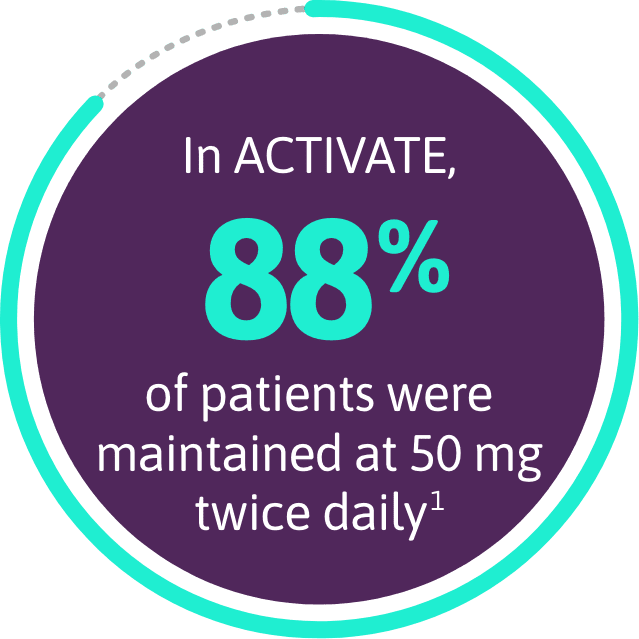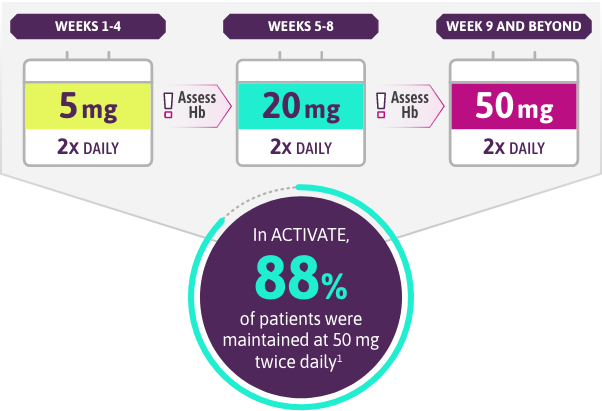 Up-titrate to 50 mg twice-daily DOSE as appropriate1*
Titrate PYRUKYND every 4 weeks from 5 mg to 20 mg twice daily, and then to the maximum recommended dose of 50 mg twice daily
If Hb is below normal range, or if patient was transfused in the previous 8 weeks, increase to the next dose. If the patient's Hb is within normal range and they have not required a recent transfusion, maintain current dose*
If at any time the patient's Hb decreases, consider up-titrating to the maximum dose of 50 mg twice daily
If a dose reduction is required for adverse event management, tolerability, or for Hb above normal, reduce to the next lower dose
How to take PYRUKYND1
Direct patients to take tablets orally, with or without food. Tablets should be swallowed whole
Patients should not split, crush, chew, or dissolve the tablets
PYRUKYND dosage modifications1
DRUG-DRUG INTERACTIONS
Strong
CYP3A Inhibitors
Moderate
CYP3A Inhibitors
Strong
CYP3A Inducers
Moderate
CYP3A Inducers
Avoid co-administration
Do not titrate above 20 mg twice daily
Avoid co-administration
Consider alternatives
Can titrate beyond 50 mg twice daily, as needed, but do not exceed 100 mg twice daily
Special populations and circumstances1


Avoid use of PYRUKYND in patients with moderate and severe hepatic impairment
PYRUKYND undergoes extensive hepatic metabolism. Moderate and severe hepatic impairment is expected to increase the systemic exposure of PYRUKYND


Steady state AUC of PYRUKYND in patients with eGFR 60 to <90 mL/min/1.73 m2 was not significantly different compared to patients with eGFR ≥90 mL/min/1.73 m2
There are limited data available in patients with eGFR 30 to <60 mL/min/1.73 m2 and no data available in patients with eGFR <30 mL/min/1.73 m2


Reduce dose to the next lower dose level twice daily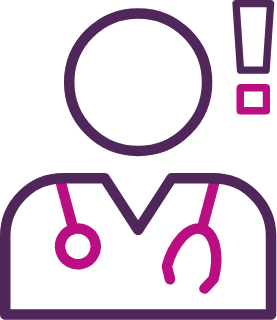 Advise patients using hormonal contraceptives to use an alternative non-hormonal method or add a barrier method of contraception during treatment with PYRUKYND
*Some patients may reach and maintain normal Hb levels at 5 mg twice daily or 20 mg twice daily.1
†If discontinuation is required, follow the dose taper schedule below.
Missed, interrupted, or discontinued treatment1
MISSED DOSE
Advise patient: If a PYRUKYND dose is missed by 4 hours or less, take the scheduled dose as soon as possible. If a dose is missed by more than 4 hours, do not take a replacement dose, and wait until the next scheduled dose. Subsequently, they should return to the normal dose schedule.
Taper dose to gradually discontinue treatment
To reduce the risk of acute hemolysis, avoid abrupt interruption or discontinuation of PYRUKYND. Dose taper packs are available.
IF CURRENT DOSE IS
50 mg TWICE DAILY
Dose as 50 mg once daily for 7 days
—
On day 8, down-titrate to 20 mg once daily for 7 days and then discontinue
IF CURRENT DOSE IS
20 mg TWICE DAILY
Dose as 20 mg once daily for 7 days
—
On day 8, down-titrate to 5 mg once daily for 7 days and then discontinue
IF CURRENT DOSE IS
5 mg TWICE DAILY
Dose as 5 mg once daily for 7 days and discontinue
IN-TRIAL TAPERING
In a phase 2 dose-finding study with doses as high as 300 mg twice daily, 2 out of 52 patients experienced acute hemolysis due to sudden discontinuation. Both patients experienced a rapid and large Hb level increase during the first 3 weeks of treatment, followed by a sudden discontinuation of PYRUKYND without taper, resulting in acute hemolysis2
In the studies, patients who missed only a few doses of PYRUKYND later in their treatment course, or for whom the dose was tapered, did not experience acute hemolysis2

Discontinue PYRUKYND if no benefit has been observed by 24 weeks (6 months), based on the hemoglobin and hemolysis laboratory results and transfusion requirements1
Hb=hemoglobin; PK=pyruvate kinase; AUC=area under the curve; eGFR=estimated glomerular filtration rate.
myAgios® Patient Support Services can educate on dose titration
myAgios can help ensure continuity of care during dose titration for enrolled patients

1. Prescribe 28-day Rx PYRUKYND for your patient enrolled in myAgios.

2. A dedicated Patient Support Manager (PSM) will proactively contact your office on Day 1, Day 15, and Day 20 after initial shipment with a reminder of your patient's upcoming refill or dose titration.

3. Clinician assessment of Hb and/or transfusion needs.

4. myAgios PSM confirms refill or dose titration based on clinician assessment. If dose titration is needed, myAgios PSM can warm transfer clinician to specialty pharmacy for new Rx.
INTRODUCING
myAgios Patient Support Services for adults with PK deficiency
A centralized enrollment for eligible patients, including prescription fulfillment, financial assistance, access, and adherence support.

This program is not intended as medical advice and patients should consult their healthcare team with questions related to their treatment.
References: 1. PYRUKYND. Prescribing information. Agios Pharmaceuticals, Inc.; 2022. 2. Grace RF, Rose C, Layton DM, et al. Safety and efficacy of mitapivat in pyruvate kinase deficiency. N Engl J Med. 2019;381(10):933-944.
Indication
PYRUKYND is a pyruvate kinase activator indicated for the treatment of hemolytic anemia in adults with pyruvate kinase (PK) deficiency.
Important Safety Information
Acute Hemolysis: Acute hemolysis with subsequent anemia has been observed following abrupt interruption or discontinuation of PYRUKYND in a dose-ranging study. Avoid abruptly discontinuing PYRUKYND. Gradually taper the dose of PYRUKYND to discontinue treatment if possible. When discontinuing treatment, monitor patients for signs of acute hemolysis and anemia including jaundice, scleral icterus, dark urine, dizziness, confusion, fatigue, or shortness of breath.
Adverse Reactions: Serious adverse reactions occurred in 10% of patients receiving PYRUKYND in the ACTIVATE trial, including atrial fibrillation, gastroenteritis, rib fracture, and musculoskeletal pain, each of which occurred in 1 patient. In the ACTIVATE trial, the most common adverse reactions including laboratory abnormalities (≥10%) in patients with PK deficiency were estrone decreased (males), increased urate, back pain, estradiol decreased (males), and arthralgia.
Drug Interactions:
Strong CYP3A Inhibitors and Inducers: Avoid concomitant use.
Moderate CYP3A Inhibitors: Do not titrate PYRUKYND beyond 20 mg twice daily.
Moderate CYP3A Inducers: Consider alternatives that are not moderate inducers. If there are no alternatives, adjust PYRUKYND dosage.
Sensitive CYP3A, CYP2B6, CYP2C Substrates Including Hormonal Contraceptives: Avoid concomitant use with substrates that have narrow therapeutic index.
UGT1A1 Substrates: Avoid concomitant use with substrates that have narrow therapeutic index.
P-gp Substrates: Avoid concomitant use with substrates that have narrow therapeutic index.
Hepatic Impairment: Avoid use of PYRUKYND in patients with moderate and severe hepatic impairment.
Please see full Prescribing Information for PYRUKYND.